Here is what our customers are currently are saying.....

"Our son has been part of the Wilmot family for the past few months. From the very first day
he entered the crèche he has loved it . I never have an issue leaving him there in the mornings
and he greets them with a smile every morning (In fact the girls have dubbed him smiley!).
I would consider the crèche to be a home from home and it is very evident how the staff in
in the baby room cater for the little ones. Nothing is too much trouble for the staff and
everything I say to them about his routine is taken on board and implemented as far as possible.
I love the fact that Rosemary even though she is the owner is constantly around the place
interacting with the children and I have found her to be a very caring and approachable person.

I work in a large company and numerous staff have their children in Wilmots which to
me is testament to the great place that Wilmots is. I have no hesitation in
recommending Wilmots to all my friends and Family "

Emma Hoffler - 24th March 2010.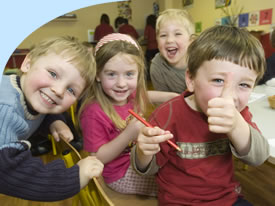 "Having used your service on a continuous basis over the past seven years, we can safely say that we would not have got through them without you and your staff. Of all the things we love about the service, the one that holds most credence for us, is that the same staff who cared for our first son are now caring for our third six years later. This is testimony to the caring respectful way in which everyone is treated at Wilmots – the parents, staff, but most of all, the children."

Brendan & Justine Donohoe - 30th March 2010.
"I have been very impressed by the level of care and attention paid by Wilmot staff to my children's development and individual needs. The children are happy and stimulated in an environment which strikes the right balance between learning and playtime. Wilmot Childcare offers a variety of activities and its organisation and management are excellent."

Bernadette & Brendan Connaughton, Monaleen, Limerick.
"Colin was Rosemary's first child to attend the creche when it opened. He is still there 5 1/2 years
later, with his sister Lucy. Over the years I have never hesitated to recommend to other parents to
send their children to Wilmots Childcare. The children are safe, cared for and above all happy. The staff are always approachable and are genuinely fond of the children. I will continue to recommend Wilmots in the future - it really is 'A Happy Place'."

Stephen & Bridin Ryan, Salmon Weir, Annacotty, Co Limerick.
"Our children have been at Wilmot's since March 2003. We are delighted with the caring staff who look after all their needs. Our children are happy and contented as their days are fulfilled. We have experience of our children in all areas of the crèche, baby room, toddlers, playschool, and Montessori. The homely atmosphere is very evident throughout the crèche. The care and attention given to babies as they establish their individual routines is carried through to the stimulation and social interaction the children gain as they develop their own personalities. Wilmots Childcare is a home from home for our three children and we would have no hesitation in recommending it."

Ticey & Anne Allen, Newport, Co Tipperary.